A Transport Management System (TMS) provides the user with an overview of all transport operations, systematizes information and documentation for commercial compliance, and takes care of on-time delivery. With transport management software, shipping and the optimization of accompanying operations are much simpler and less error-prone than before. 
TMS – why and for whom?
Transport Management Systems organise entire supply chains and play an extremely important role at every stage of the process. Whether we are talking about planning, procurement, logistics or managing the entire supply cycle – it is becoming increasingly difficult to do without a TMS. Modern software makes logistic processes more transparent and enables more effective planning of operations. Thanks to that the delivery process becomes more efficient, which translates into satisfaction and, as a result, trust and even loyalty of next customers. There is no need to mention how important these issues are for companies that rely on regular shipping, transport and receiving of goods. Therefore, TMS is used not only by logistics service providers, but almost equally by manufacturers, distributors, retailers and even e-commerce companies.   
Although the main users of the systems are companies that spend a lot of money on freight, these solutions are starting to become more popular among smaller companies. That's because cloud-based TMS solutions are cheaper, lighter, easier to use and faster to deploy.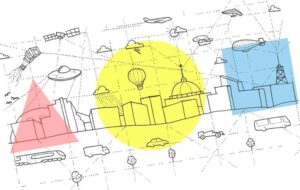 Welcome to the new world
The decision to start using transportation management systems is to join a world of fully automated business operations. Documentation and billing processes become simpler, and the cost of operations – for both the company and the end customer – are reduced. Speaking of economy, one should also take into account the time that is usually consumed by manual activities. Modern logistics solutions simplify supply chain processes, regardless of location, vehicle or carrier. The order guaranteed by TMS means significant minimization of delivery delays, but also increased visibility and safety in transportation.
How to choose a transportation management system?
For companies interested in implementing a TMS, the optimal choice is a stand-alone management system that can be easily integrated with existing enterprise resource planning (ERP) or supply chain management (SCM) software. Some of the TMSs available on the market allow for full trade documentation or complement the existing system with a global trade management (GTM) application. The latter provides insight into tariff information or even possible delays due to customs regulations, etc. The most advanced systems also provide shipment tracking along with information exchange (in real time!) with the carrier, distributor, warehouse, and customers. Less recommended options are TMSs available as part of SCM and ERP packages – they are simply less functional and usually poorer. With a decent TMS, an entrepreneur is able to plan and prepare a shipment and even choose a carrier based on cost of service, distance and capacity. What's more, he has visibility into every step of the supply chain.
Software in SAAS model
SaaS, or Software as a Service, is a departure from the old and moderately comfortable formula under which companies were forced to own and maintain the entire IT infrastructure regardless of costs, the economy and other not always favorable circumstances. In the SaaS model the work is based on online subscription of services in a shared environment. In this model software becomes a service, which translates into economy of time, human resources and of course money.
A huge advantage of SaaS applications is their universality. You can use them at any time from any computer, and training and implementation does not take much time. In addition, all updates and other necessary elements are available online, that is, virtually immediately. The aforementioned subscription-based model means that initial costs can be much lower than in the traditional formula. Money invested in hardware, software and professionals are therefore much smaller.
Quotiss – check it out!
When reviewing software offers for freight forwarders, it is worth noting the name Quotiss. This is a tool used for valuation of sea, land and air transport, regardless of the size. This system meets almost all the conditions mentioned in the previous paragraphs, automating and speeding up freight quoting, simplifying price lists and allowing instant pricing of sea, air, rail and road freight.
A great advantage is the ability to send updated rates in bulk, so that the problem of multiple recalculations of amounts, with frequently changing prices in the market for transport services, actually ceases to exist. The routing system also allows you to search for connections from zip code to zip code between countries, taking into account charges appearing on the route. Importantly, at the time of its creation, Quotiss was a pioneering solution. Until then, only Excel spreadsheets were used, which, as we all know, can be time eaters and error generators.
Thanks to the rapid preparation of MVP (Minimum Viable Product) and its enthusiastic reception by customers, Da Vinci Studio was able to proceed to the rapid implementation of the project. The target solution was created according to the Scrum methodology, which is based on delivering the product to the client "in installments" in the form of single, ready-to-use functionalities. It is a method that allows to react live to comments and observations of both parties standing behind the project.  
 A new chapter
Software for the TSL industry based on SaaS is the opening of a new chapter in the history of IT. Ready to be cyclically transformed and used in a constantly evolving business environment, next-generation applications offer almost unlimited possibilities for both producers and users. If you are considering implementing a similar system in your company, please contact us!