Best hosting – what does it mean?
Choosing web hosting is not a simple task, and the decision should not be made in haste. Pointing to a particular company that offers hosting services does not solve this dilemma. Your choice of service provider should be determined by specific factors that affect the efficiency and performance of your site. Whether you run an online store, a startup, or a blog – uninterrupted customer contact is of utmost importance in the context of your business. However, it's still just one of many factors to look at when choosing a web host.
Hosting – what is it?
As we mentioned at the beginning of this article, web hosting is the home for your website. It is a service of renting server space on an Internet-connected computer. Companies that offer hosting services provide customers with their own space, with the assumption that the servers will run continuously. This space allows you to maintain websites, complex services, stores, multimedia files (video and photos), and email accounts. Renting a hosting service pays off much more than building your own server room. When choosing, it is worth remembering that there are different types of hosting tailored to specific needs.
What are the types of hosting?
In the offer of internet service providers you will certainly find many types of hosting. Therefore, it is worth choosing such a service that will best meet your needs and expectations. Here are the types of hosting you will encounter in the offers of service providers: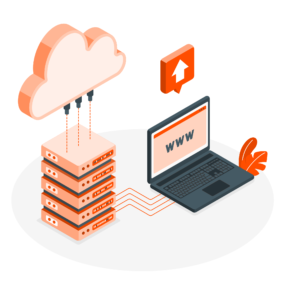 Shared – is the cheapest and most popular hosting, which at the same time is compatible with the needs of many customers. It means sharing a part of resources made available on a physical server. Choosing it, you have at your disposal a certain part of disk space and functionality. At the same time, you do not have to worry about server security or software updates. These tasks are carried out by the service provider, and you can calmly manage your own website and configure mailboxes.
Dedicated – this type of hosting service gives away all the disk space for your exclusive use. Depending on the contract you sign, server administration may be on your side or on the side of the service provider.
Colocation – this is actually a type of dedicated hosting. Deciding on this option, you will receive all the disk space and physical space in the server room where you will place your equipment. The service provider on their part will provide you with: internet connection, power, air conditioning, and fire protection and other data center features.
VPS – or Virtual Private Server, is a solution between shared and dedicated hosting. By choosing it, you have at your disposal a specific part of the server shared with other users, but you gain access to separate software and operating system.
When comparing service provider offers, be sure to choose a hosting that is relevant to your online business. If you run a small store or blog, you don't need a high-powered server. Shared hosting or VPS hosting will be perfect for you.
Hosting parameters – which ones are worth knowing?
Hosting parameters are important designations which values will help you determine if a particular hosting service is for you. Here are the most important parameters: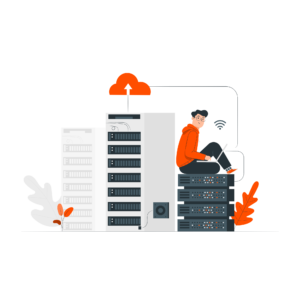 server capacity (the amount of space on the server),
data transfer (from this parameter you will learn how much data can be transferred to and from the server with respect to time unit),
number of domains and websites

(this parameter determines how many websites can be created on a given

hosting

account),

number of FTP accounts (File Transfer Protocol, this parameter determines the possibility of uploading files directly to the server and sending them directly to your computer),
databases (these are files that collect information about the sites, if the provider offers several databases, the site takes up less space and users have access to more features of the site),
number of parked domains (parked domain appears in the hosting account, but when you enter it redirects to another page, this is very useful when the target service is not yet ready to display).
What are the responsibilities of service providers?
Ensuring service continuity is only one side of the coin. Equally important is the constant improvement of security level of virtual systems, as well as making backup copies of files and constant updating of operating systems and software. Transparency and the ability to establish relations with the client are also important. Precise answers to questions is the foundation, which should be included in the price of hosting services. A good provider does not hide costs after hosting renewal and service limits.

Hosting – step by step
Before you sign a contract, make sure what service you actually need. Consider the type of hosting, the amount of disk space you need, and think about what your plans are for growing your business online. Pay attention to data transfer rates and how the hosting provider takes care of security issues. The technology you use is not insignificant. Consider the choice of a domain name and additional features (e.g. SSL certificate – it gives your brand credibility on the web and makes the website load faster, thus improving its positioning).
Informed choice is a guarantee of quality
Don't make a hasty decision, choose good and proven web hosting that will continually support your business growth through efficient and secure operation. Don't be afraid to ask your hosting provider questions, the more you know, the better decision you will make.