Da Vinci Studio is based on a few basic fundamentals, thanks to which – we firmly believe – it can operate like a well-oiled machine. The combination of knowledge, experience, relentless enthusiasm and joy of work makes each task an exciting new adventure, for which we can always be sure of a positive outcome. Does it sound like a well-tailored advertising slogan? Perhaps, but our current position in the IT industry and the very fact that we are still working at full steam, not complaining about the lack of new (and satisfied!) customers, give us a little confidence.
Individual approach
We assume that a software house is not a factory from which similar products come out. We think of ourselves rather as a technologically advanced workshop preparing unique solutions for unique customers. We treat each customer individually, adjusting the solution to their real needs and possibilities. For this purpose we usually use modern techniques of cooperation, such as event storming, and after the work is done we never leave the client on their own.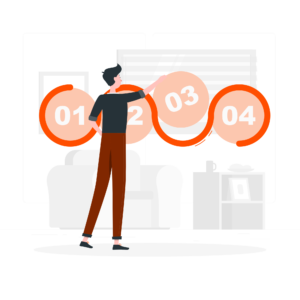 Our process in 4 steps
Step 1: Starting meeting
We always start our work with the client with a meeting that consists of three steps: introduction to the project, getting to know each other and presenting the business goals.At this point we get to know each other enough to know how to establish a harmonious and fruitful cooperation.
Step 2: Recognition
By jointly discovering and modeling the processes that make up the ordered solution we learn more about the client's requirements, helping him to understand what is going on inside an often very complex project. This insight allows us to choose an appropriate way of working and to assemble a team that will be responsible for creating a specific solution. The second stage concludes with summarizing the findings and signing the contract.
Step 3: Action
Step three is the launch of our tech-workshop. In this part of the journey we engage the project team, standardize work, introduce necessary iterations and improvements. The final stop is getting a product ready for deployment.
Step 4: Support
As we mentioned earlier, once the work is done, we don't pack up our tools and roll up to go home, leaving the customer alone with the custom application. At this stage the product is implemented and the knowledge necessary to understand and use it is transferred. Our customers can therefore count on training and support. This is our responsibility as a provider of technologically advanced solutions.
Culture and responsibility are the qualities that we want to advocate. This standard should apply to the entire IT industry. To our joy and pride, these efforts are appreciated by customers who emphasize how important it was for them that from the beginning they were not alone and could count on our support. This is how we work and we do not intend to change it.
If you want to find out what we can offer you – feel free to contact us. We will be happy to propose solutions that will be optimal for the implementation of your project.